Brushed Aluminum mosaic tiles interlocking tiles wall Backsplash tile kitchen bathroom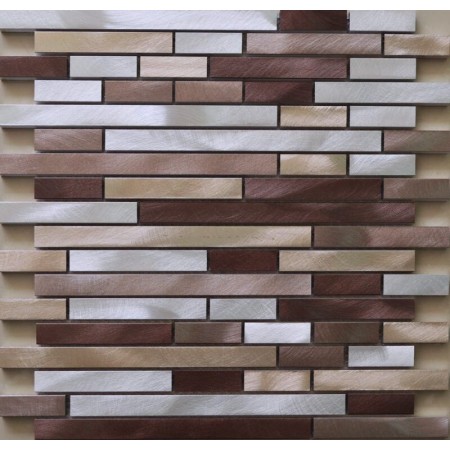 Collection: Aluminum Mosaic Tiles
Material: Metal, Aluminum
Color: Siver brown and gold
Surface Finish: Glossy, easy for cleaning, brushed aluminum.
Shape:Strip
Sheet Size: 305mmx305mm
Type: Mosaic Tile
Selected best quality
Metallic Mosaic
. APCP is a composite multi-layer material, the upper layer for high-purity aluminum alloy plate, in the middle of a nontoxic low density polyethylene (PE) core board, surface gold burshed aluminum panel.
Brushed surface, Grey aluminum. Aluminum composite panel surface is polished, like a mirror.
High quality plastic mounted. Alumimun composite panel mosaic synthesis of advanced technology, good weather resistance, high strength, and easy maintenance. Back with viscose construction more convenient, self-paste, reduce construction costs.
Aluminum
mosaic wall tile
for kitchen backsplash, bathroom, and featured walls. Available in different shapes and colors such as brick, 3D, and Split Face.
Aluminum mosaic tiles
can be used on kitchen backsplash, featued walls, fireplace surrounding, and bathroom. By nature Aluminum Tiles are modern and can also be used as accent tiles for contemporary projects
Aluminum is a relatively new material to be adapted to a
mosaic tile
format. Nevertheless, aluminum tiles are ideal for almost any kitchen or bathroom wall covering and provide a welcomed alternative look to the typical stainless steel tile. Aluminum mosaic tiles often feature random or circular brushing, instead of just straight brush marks, which give them a very unique look that changes with the ambient light. They are actually more robust once installed because of their construction.
Aluminum mosaics
are extruded and are solid pieces, so once laid into the mortar or adhesive, they will never separate. Aluminum can be cut with a regular tile saw or even a set of sharp metal cutters because it is a relatively soft metal.
Learn more about this
Aluminum Mosaic Tile
.