Metallic Backsplash Tiles Silver 304 Stainless Steel Sheet Metal & Crystal Glass Blend Diamond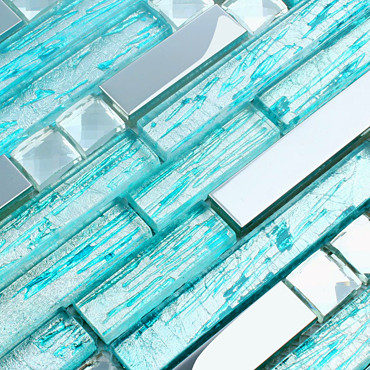 Collection: Metal Glass Mosaic Tiles
Material: Stainless Steel, Glass
Color: Blue and Silver
Surface Finish: Glossy, easy for cleaning
Shape: Strip and Square
Sheet Size: 300mmx300mm
Chip Size: 15mmx15mm, 15*48mm, 15*98mm
Thickness: 8mm
Type: Mosaic
Characteristics: The metal glass mosaic tile has a zero water absorption rate, and this tile exceeds ANSI standards for water absorption for mosaic tile.
These interesting fusion tiles combine glass and metal and come in several different shapes, sizes, and colors. With their versatility and clean, modern aesthetics, our glass and metal tiles are especially perfect on the kitchen backsplash and installed as bathroom tile. The materials and elements match rooms with a water theme, but of course you can come up with creative uses for other parts of your home based on the geometric patterns and range of colors available as well.